In Miami, we have a client who loves her Midwestern roots, but, must have the Miami essence around her. Her house had taken on a drab, neutral color scheme, until, she screamed out for COLOR to brighten her surroundings. COLOR entered the picture, playing off her great, colorful collection of art.
A wonderful silver metallic wallcovering with white,  turquoise, geranium red, & blue was added in the foyer with a large, antiqued mirrored console and mirror. Her beautiful hand-blown glass vases are showcased against the reflective surfaces.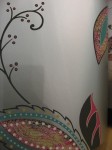 The upper foyer was covered in a turquoise grasscloth, against which the colorful art was spotlighted. A burnished silver ceiling was the setting for the large silk drum shade chandelier with crystal beads hanging in rows in the center. Into the adjacent living room, a turquoise chaise with accent pillows in whites, reds, & jewel blues complemented the warm wood floors and leather sofa. Colorful pillows and a striped velvet sofa blanket gave color & texture to the sofa. A bright  red print covered host chairs in the dining room with grayed-blue silk draperies.
The client has told me she doesn't know what she likes best about the transformation, except that she is thrilled to have COLOR around her & every area drawing her to the other.
We  hear she keeps peeking around the corners to see the sparkle of the chandelier at night!